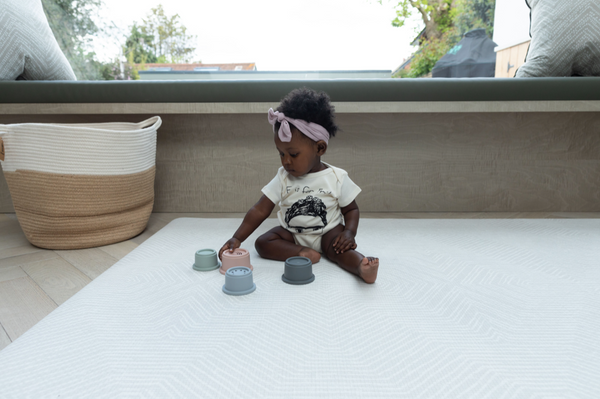 Totter + Tumble Support Circle: Twelve Weeks to Toddlerhood
The Totter + Tumble Support Circle series is rooted in connection and support. We have been inspired to create content that will connect you to businesses and resources who can support your unique parenting journey. 
In Series Three: Twelve Weeks to Toddlerhood, we look at resources to support the first year (and beyond) with a focus on eating, sleeping and playing. Please do seek support from health professionals or postnatal charities if you have any concerns.
Eat
By the twelve week stage you should be in the flow of feeding your baby the way you both want to, but if you have concerns with feeding either by breast or bottle, your doctor can assist you. Around the six month mark, you will likely begin weaning your baby to solids. It's an exciting new chapter with your growing baby.
Breast + Bottle - A fed baby is definitely best but there can still be pressure both ways. If you are breastfeeding at the recommended weaning to solids stage (6 months) and both of you still want to continue, do it! While extended breastfeeding (classed as beyond 12 months) is fairly uncommon in the EU, many cultures don't wean from the breast until between 2-4 years and the WHO recommends feeding until 2 years.
If you have been breastfeeding, you may want to begin combi feeding or moving to the bottle exclusively sometime during the first 12 months. If your baby has an aversion to bottle nipples, which can cause distress for you both, the Comotomo bottles are often hailed as wonder bottles, as the soft silicone design mimics the feel of the breast against the cheek. The ultra-quiet Elvie pump can help you discreetly pump as well, if you want to give expressed bottles with minimal disruption to your day.
World Of Solids - Take weaning slowly. If you happen to be travelling or your little one is unwell at that six month milestone, put pause to the weaning for a little while. This chapter is about finding your thing, you may be happy to totally wing it or you may choose to follow recipes to the ounce, with help from a pro like Annabel Karmel. Alternatively, you may give your little one a stripped back version of your family meal in finger food form or you may look to subscribe to one of the Goustos of the weaning world for heat and go deliveries. Mamamade and Lune + Wild deliver fresh and organic baby and toddler meals. 


Toddlerproof Dinnerware - Once they are on their way to solid food joy you may want to invest in toddler tableware. Choose cutlery that is soft on gums and ergonomically designed for their grip and precision. For plates and bowls, silicone options such as the EZPZ collection mean they don't break if they are thrown or dropped, but may need a lemon scrub once in a while to remove lingering soap suds on the silicone. From around six months, you can give a small open cup which some will master in no time at all! Otherwise choose a free-flowing sippy cup, look for designs that contain no nasties, such as silicone or stainless steel.
Sleep
The saying 'Sleeping like a baby' definitely doesn't mean soundly. After the sleepy newborn haze lifts, it can really feel like shut-eye eludes you. Safe sleeping should also be a priority however besides that your little ones sleeping journey will be unique, including both day and night time.
Safe Sleeping - Babies over the age of 12 months are no longer at risk of SIDS, but safe sleeping should be followed at every age. In the first year, babies should be laid to sleep on their backs, in a cot free from blankets, bumpers and soft toys. After this stage, little ones can sleep in the position that feels most comfortable for them. Introduce a blanket and toddler pillow if they are interested, or size up to a roomy sleep sack! Usually the cot is swapped for a toddler bed between the ages of 18 months to 3 years, others favour a Montessori floor bed or a double bed for families who co-sleep. If you need advice about safe sleeping, The Lullaby Trust have a wealth of information and guidance available.
Daytime Napping - While some parents are sticklers for a nap schedule others will pick and choose according to their day ahead. But that's without considering how the child feels about it too. Your baby may favour long nighttime stretches over daytime sleep, prefer to nap on the move or will only snooze while feeding. Know that each baby and stage is different, with sleep often impacted by developmental changes as well. 
From 3-12 months, your baby will likely need 2-3 naps a day, usually with a shorter morning sleep and a longer stretch after lunch. 
From 12-24 months, your toddler will likely need 1-2 naps a day, usually with a nap of a few hours after lunch. 
By 36 months, most toddlers have retired napping, but some may need a little to see them through the day.
To encourage daytime napping you may find one or some of the following work for your baby;
Utilising innovative white noise aids such as the Ewan the Dream Sheep or MyHummy or simply put on the vacuum
Playing calming audio stories or music, on kid-friendly devices such as Yoto which can double up as a nightlight too.

Babywearing for hands-free contact naps, a stretchy sling is best for younger babies, but you may prefer a more structured carrier when they get heavier

Taking a drive or going for a walk as soon as those sleepy cues start, if you have older children, the school or nursery run often becomes an opportune time for a nap. You may find fresh air and a change of scenery works wonders for you too.
Bedtime Routine - To set you and your baby up for a good night, a consistent bedtime routine can be really beneficial. Most find that bedtime should be approximately 4 hours after waking from the last nap, but that may be different for you. Precision is not key, however, a rhythm to winding down for sleep will be useful to signal to your baby it is nearly time for bed. You may choose to follow the bath, feed, book and bed flow and it's good to ensure the sleep space is just right as well. Dark rooms are the best for bedtime, so blackout blinds are particularly helpful for the drawn out days and be sure to monitor the temperature, to ensure your little one isn't too hot or cold at night. 
Sometimes even with all the boxes ticked, your little one will still not fall into a deep sleep. This could be a short lived developmental phase, or an every-night thing. If it is the latter, there may be a point that you want to engage professional support. Baby sleep experts can teach methods for helping your baby to learn to sleep, self settling or gentle sleep training, depending on what you feel comfortable with.
Play 
Play is not only joyful for them and for you, it is an essential aspect for continued development and wellbeing. After the fourth trimester, you will likely feel ready to explore play as well as out-of-the-house adventures with your baby. 
Toy Box Joy - Baby play can start from day dot, but it's a totally different kettle of fish to when they start exploring items by themselves. *cue the proud parent tears* Safe baby play toys are designed for specific ages and stages, supporting their development as they have fun, such as their hand-eye coordination and pincer grip. Building a babies toy box doesn't need to be expensive, they may really like the non-toy toy like wooden spoons and toy rental subscriptions such as Whirli and the Toy Box Club or toy libraries in your community mean you can refresh inexpensively when they are ready for newness. Bargains can always be found at boot sales, charity shops or on marketplace as well, not to mention the sustainability factor of those purchases too.
Arts + Crafts - You may think arts and crafts sessions are geared towards older toddlers or preschoolers, but there are plenty of safe activities you can enjoy before this stage, if you want to. A Totter + Tumble playmat is the ideal base for little ones sitting to get arty, as it's wipeable, provides support and there is loads of space for you to get down on the floor with your baby one as well. There are endless ideas on pinterest and instagram, but we love the homemade (and safely edible) play dough recipe here and sensory fun with rice or cooked spaghetti can never be beaten. Forage outside for materials to make collages or use skin-friendly, washable paints for veggie stamping and hand painting which can be used to make cards and pictures for loved ones or to keep forever in the memory box.  
New Adventures - You may be graduating from the newborn classes discussed in our Fourth Trimester support circle or perhaps you only feel ready to explore baby classes once you are past the first twelve weeks. Whichever is the case for you, there is so much to explore with your growing baby and we aren't just talking about baby corners in soft play centres. Experiences can be a joy for you both such as Bach to Baby who hold classical concerts around the country, designed for under 5s and Hartbeeps who offer a range of engaging weekly classes for up to preschool age. If you are looking for something that you don't need to commit to, local libraries often have free rhyme time sessions and your local children's centre may have their own schedule too. Local cinemas will sometimes have baby sessions so you can catch some culture while baby hopefully takes a nap or you may prefer a cuppa and cake with your antenatal clique and your growing brood.
RESOURCE CENTRE
EAT RESOURCES
La Leche League - Support for your breastfeeding journey
Henry - Passionate for babies getting the healthiest start in life
Annabel Karmel - Baby and children's food expert
Mamamade - Fresh and organic baby food delivered to your door
@littleveggieeats - Tasty veggie & vegan family food ideas
@happytumsuk - Award winning workshops by experts in infant & child nutrition
EZPZ - Practical feeding tools for developing mealtime milestones
Numnum - Ergonomic first cutlery for babies 
Young Gums by Beth Bentley
SLEEP RESOURCES
@lullabytrust - Working to reduce the rate of SIDS by providing expert advice on safer sleep for babies
@theparentandbabycoach - Coach specialising in sleep, reflux and toddlers 
@heysleepybaby - Helping parents ditch the stress around sleep
@jofrost - Global parenting expert, helping families shine
@batellesleep - A sleep school offering six years of sleep support
@owlet - Helping parents rest easy while their children do too
The Gentle Sleep Book by Sarah Ockwell-Smith
PLAY RESOURCES
Playfully - An app to inspiring playful activities to promote your 0 to 3-year-old's development
@babyeinstein - Equipping parents with the tools they need to create an environment of curiosity and feel confident in their role of #BabysFirstTeacher
@littlehappylearners - Craft and play ideas for nurturing happy little learners 
@giveitawhirli - The UK's toy swap subscription with 1000+ things to choose from
@playful_den - Inspiring families and communities to live playfully
@bablands - Directory of fun adventures for families and their under 5's in London
@bachtobaby - Critically acclaimed classical concert series for baby and you