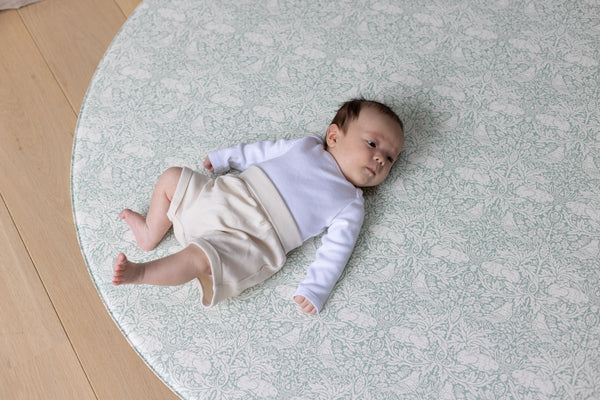 Trends | The Feel Good Nursery
Safety will always be a key pillar of our business. Totter + Tumble non-toxic PVC playmats are independently safety tested to the highest levels and pass the same testing as teething toys.
Our brilliant manufacturers have a patented process for creating the PVC they use and with no nasties like phthalates, PFAS, formamide and formaldehyde, you can safely implement a versatile Totter + Tumble mat into your home without compromise.
The trend for creating restorative, planet-friendly home environments that support physical and mental wellbeing has peaked since the Covid era. Most important for the littlest people in our families, here is our trend board and checklist for creating a feel good, non-toxic baby nursery.   
Ensure paint is zero VOC and low odour, such as Clare paint, so that air quality is kept safe and chemical-free from the first paint stroke.

Choose sustainable furniture solutions that grow with them, including well-built cot beds and sturdy chests of drawers that have changing spaces on the top.

Introduce a big dose of Vitamin N into the space. Style non-toxic baby safe house plants into the nursery and choose timeless botanical motifs for textiles and wallpaper, such as the Morris & Co. x McGee & Co. collaboration.
Invest in clever, gimmick-free baby tech. The Hatch Rest+ device is both a night light and white noise machine, designed to support healthy sleeping habits and the wearable Owlet sock, gives you peace of mind while they do sleep.
Pick organic textiles that are made ecologically, such as heirloom-quality blankets by Permanent Collection and changing mats from Naturepedic, manufactured from a plant-friendly sugarcane material.
Double-up sound absorbing curtains with a black out blind to support good

 s

leep hygiene.
Keep surfaces decluttered so that cleaning is simple and stress-free. A one-piece Totter + Tumble mat is wipedown, the ideal alternative to textile rugs that can harbour dust mites.
Check plastic products are baby safe. Alternatively, look for medical-grade silicone options. The innovative, anti-colic Elhée bottles have a 100% healthy composition and are designed to mimic breastfeeding. 
We love talking about our memory foam mats, what they are made from and why they are without a doubt, safe for you and your family. Please do get in touch if you want to know more and you can also see our in-depth safety testing here.