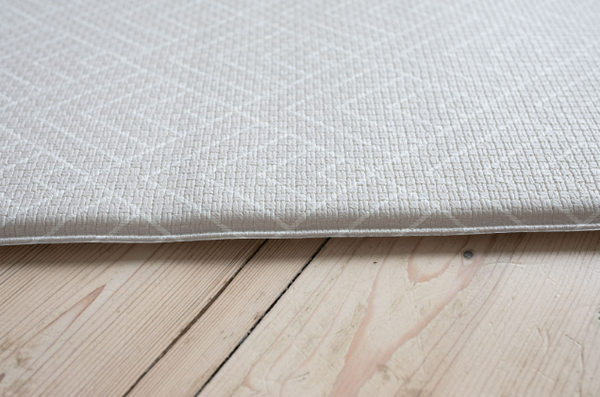 Meet The Playmat: The Roamer
The Roamer is one of three vintage chevron designs in the Totter + Tumble collection. Designed in a warm near neutral tone, it unrolls to sit timelessly in well-considered family homes as a rug alternative and is continually one of our best-selling designs.
The Colour Palette
For the colour palette, The Roamer takes a warm, dove grey hue for the background, steering away from the true grey tones which can feel cold. The fine-lined diamond pattern, in a soft off-white, sits subtly against the background.
The Pattern History
The chevron pattern can be traced back for centuries, with excavations of ancient Greek pottery featuring chevron motifs, dating from approximately 1800 BC. More recently, chevrons in a repeat diamond formation, were synonymous of the Art Deco period, where intricate line art, symmetry and repetition were highly favoured for detailing. The classic, geometric pattern, has a vintage appeal for modern design today.
The Vision
The Stats
Because we know one size doesn't fit all, The Roamer is available in two sizes. The 
Standard
works as a multipurpose, alternative to an area rug and the 
Compact
is ideal for play spaces in open plan living.
In Real Life
The Roamer
is a durable and stylish multi-purpose mat
 and ideal for anywhere in the home, from the nursery to the living space.
The near neutral colour palette appears very subtle, often appearing as a plain colour mat, which is ideal for styling against a
minimal
, scandi or
monochromatic
interior.